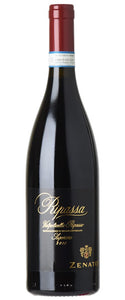 Zenato gives the name "Ripassa" to this wine, which shares many of the characteristics of our Amarone. As soon as the fermentation is completed of the dried grapes for the Amarone, selected lots of Valpolicella are then "re-passed" on the Amarone pomace, thus initiating a second fermentation which increases slightly the alcoholic content and gives the wine deeper colour, increased extract, and more complex aromas. After 6 months' bottle-ageing, the result is a rounded, velvet-textured wine with rich, complex aromas of berries and an impressively lengthy finish that seems to linger forever. Ripassa represents one of the most important milestones in Zenato's winemaking evolution.
excellent companion to game dishes, grilled meat and roasts, salami and aged cheeses
Tasting Notes:
Colour: deep ruby red. Bouquet: intense, elegant and persistent. Palate: harmonious and velvety, with a good structure.