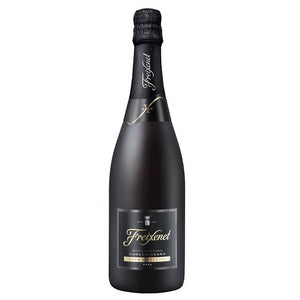 Freixenet Cordon Negro Brut Cava Sparkling Wine is crisp and well-balanced, perfect as a palate cleanser. The fresh notes of apple, ripe pear and bright citrus flavors combine with a smooth finish and an exciting hint of ginger.
This sparkler is made in the centuries old traditional method like Champagne. The double fermentation and aging produces high quality sparkling wines with layers of complexity and refined bubbles. Freixenet (pronounced "fresh-eh-net") grew from humble beginnings in rural Catalunya. The roots of Freixenet stretch back to 1861 and are embedded in the history of two longstanding winemaking families whose expertise and ingenuity intertwined to form the foundation of the company that today is the world leader in sparkling wines.
This delicate white wine is a go-to for all celebrations. Grab your chilled bottle, pour them into champagne flutes, and celebrate la vida with your friends and family!