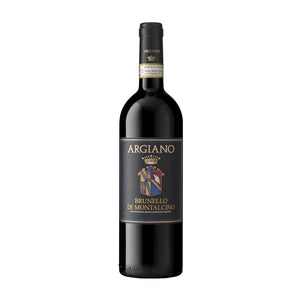 The nose is broad and complex, yet clean and fresh, with classic hints of red fruit mixed with notes of aromatic herbs and spices. In the mouth, the wine is broad, robust, and savory, with silky tannins and a long, fresh finish.
Wine Enthusiast- 92 Points
Scents of crushed mint, woodland berries and new leather come to the forefront along with a whiff of violet. The full-bodied palate features cherry marinated in spirits, licorice and a hint of coffee bean alongside firm, refined tannins.
Robert Parker's Wine Advocate- 93 Points
The Argiano 2017 Brunello di Montalcino is a wine of considerable bandwidth with lots of dark fruit, rich plum and spice. It carries medium fruit weight and concentration that proves more than enough to surround and soften the spicy oak notes and toast that also play an important role in this hot-vintage Brunello. The results are plump and slightly round, but you also get the acidity and the tannic structure of an age-worthy Sangiovese. Organically farmed fruit is selected from across the best parcels of the estate, and some of the vines are up to 55 years old