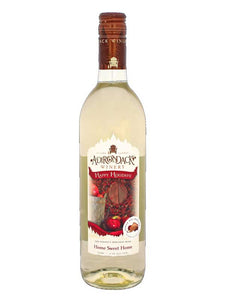 Apple Pie Infused Semi-Sweet White Wine
Tasting Notes
This semi-sweet, light bodied wine offers enticing aromas and flavors of a freshly baked homemade apple pie and traditional holiday spices.
Winemaker Notes
This wine is just a unique and delicious as it sounds! Nothing warms you up better on a crisp autumn day like our apple pie infused white wine Home Sweet Home! The cinnamon and apple flavors stand out and are really what make Home Sweet Home taste like homemade apple pie in a glass!
Food Pairing Notes
Enjoy this wine chilled to accompany your holiday meals or serve it warm for a fun holiday cocktail! This delicious wine will take you straight to your favorite memories spent around the holiday table with family and friends! Enjoy!