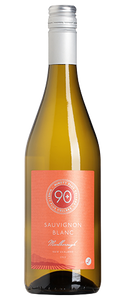 DESCRIPTION
Lot 2 was the second wine ever released by 90+ Cellars and is still one of our best-selling. The wine is made from 100% Sauvignon Blanc. The grapes are crushed, de-stemmed and cold soaked, prior to fermentation in stainless steel.

Marlborough, on New Zealand's South Island, is the most important wine region in the country and is known worldwide for its pungent and zesty Sauvignon Blanc wines. With some of the longest sunshine hours in the country, cooling maritime influences, and free-draining stony soils, Sauvignon Blanc thrives in this region.
TASTING NOTES
An expressive wine with juicy grapefruit, white peach, passionfruit, and undertones of fresh cut grass. The mouth feel is crisp and clean with racy acidity, lively fruit and a hint of minerality on the finish. This quintessential New Zealand Sauvignon Blanc is a perfect pairing for seafood, salads, vegetarian and Asian cuisine.